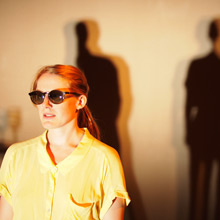 Tale Dolven shares her living and working time between Brussels and Stavanger, Norway. She studied at KHIO in Oslo and at PARTS in Brussels. After her studies she worked with Belgian choreographer Charlotte Vanden Eynde and made her own solo with the mentoring of Robert Steijn. She worked with Norwegian choreographer Sølvi Edvardsen in Asking for. In 2006 Tale joined Rosas and Anne Teresa De Keersmaeker. With Rosas she did the creations of D'un soir un jour, Steve Reich evening, Zeitung and Golden hours (as you like it). She also retook the repertory pieces Raga for the rainy season, Bartok/Beethoven/Schoenberg repertory evening, Fase. Four movements to the music of Steve Reich, BartokMikrokosmos, Rosas Danst Rosas, Elena's aria and Drumming over a twelve year engagement with Rosas.

Whilst freelancing for Rosas, Tale has also worked with Frank Vercruyssen and the Belgian theater group TG Stan for Nusch and The Tangible. She worked with Benjamin Vandewalle in Birdwatching and Point of view. She performed on the telephone and occasionally live with Doris Uhlich in More than enough, and performed Kris Verdonck and Alix Eynaudi's performance Exit. For her performance of Exit Tale received the Zygmunt Duczynski award for The most outstanding artistic personality at the Kontrapunkt festival 2014 in Szeczin, Poland.

Tale started making her own work with the support of the Norwegian Cultural Council, BIT Teatergarasjen and RAS - Regional Arena for Samtidsdans in Norway with Visibly invisible in 2012, a piece taking Loie Fuller's Danse Serpentine as a starting point. From 2014 she has been collaborating with Gabel Eiben, both with making performances and teaching together. For 2016/2017 Tale was a recipient of the research and working grant Arbeidsstipend for yngre kunstnere from the Norwegian Cultural Council as well as receiving a research grant from the Flemish ministry of culture in 2017 together with dancer Igor Shyshko. The collaboration with Igor Shyshko resulted in the piece Precarryus, which premiered at STUK in november 2019 and was supported by the Norwegian Cultural Council. In 2018 Tale took part in the creation of No president. A story ballet of enlightenment in two immoral acts by Nature Theatre of Oklahoma, which premiered at the Ruhr-triennale in September 2018. Since 2018 Tale has also worked with Field-works/Heine Avdal & Yukiko Shinozaki.
Fase. Four movements to the music of Steve Reich
Exit
Nusch