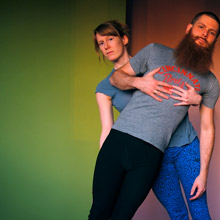 Tale Dolven and Gabel Eiben live and work in Brussels.

They started working together in 2014 for their first creation You're welcome. With residencies at Kaaitheater in Brussels, Vooruit/Gent, Black Box/Oslo and RAS/Sandnes they set out to investigate dance and theater in a language that would become their own. In collaboration with former Rosas-dancer Taka Shamoto and light designer Davy Deschepper they questioned the basic notions of theater, such as the relations between performer and audience, the space itself, the material they perform and the difference between working in a studio and on stage. Reflective and hard work combined with humor were values that they set for themselves.

In 2015 and 2016 they continued their work with combining text and movements for the pieces That catastrophe is a fire (2015) and Assembly (2016). Their work combines their backgrounds from dance and theater in a playful, curious, and humorous manner. In 2019 Tale premiered a new dance duet made in collaboration with Igor Shyshko, for which Gabel created the sound design. In 2021, Gabel and Tale premiered a new dance/theater performance, 30something, dealing with the struggles and joys of performers in their mid-career and mid-life crises.

Tale and Gabel's work has been presented in Norway, France and Holland. Their first works were made possible with the funding from Fond for Lyd og Bilde/Norway as well as co-productions from BIT Teatergarasjen, Black Box Oslo, RAS and Teaterhuset Avant Garden. From 2016 they have received project funding from the Norwegian Cultural Council, as well as research grants from the Flemish government of Belgium. Residencies include Kaaitheater, Vooruit, Campo, Workspace Brussels, Buda Kortrijk, Pact Zollverein, FringeArts Philadelphia, Black Box Oslo, IMIR Scenekunst Stavanger, RAS Sandnes, Tou Scene Stavanger, and Dramatikkenshus Oslo.